If I would need to describe island Cres I would say that it is kind of an island that you love and hate at the same time.
There is not even one island in Croatia that would make you feel that way, which is great because there is one thing this island has that other islands do not, the adventures and crazy situations, and about crazy, I mean really crazy.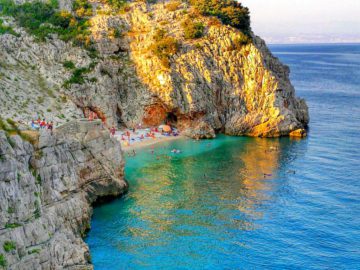 The day before going on a Cres I was searching for a nice beach to sleep. And I found one in a town called Brseč. Beach is well hidden and the sea is just the right temperature. It has a short history also. I spent half a day and half of night swimming, and at midnight I went to sleep. The morning was crazy. A few drunk guys came at the beach in a boat, and since at 7 am I am not so much for a talk I pretended to be a Hungarian from Macedonia who speaks English and has a Croatian name.
I didn't want to talk too much, but it ended that the guy who approached me was very interested in conversation, and it all ended fun as hell because I was trying to find a sense in everything I said about myself, and in one moment I almost burst out laughing because I couldn't believe that the other guy is really believing what I am saying because it didn't have any sense, at least not to me.
So from a mood "not in the mood", I ended in a mood "ready to have fun", thanks to that drunk guy. I didn't need coffee at all after our conversation at 7 AM, and I was laughing most of the ride until I reached ferry for island Cres at the place called Brestova.
Watch video: Brseč-Brestova, Brestova-Porozina
#Island Cres – Sportsmen's Island
After getting off the ferry on island Cres at a place called Porozina, I decided to spend the night there sleeping on the beach. But before that, I went to eat. My choice was a restaurant Aragosta. While I was waiting for my main dish waiter brought me to try their own traditionally made cheese and bread. Pretty cool. The restaurant is on the beach so while I was eating I was able to watch the sunset over the sea.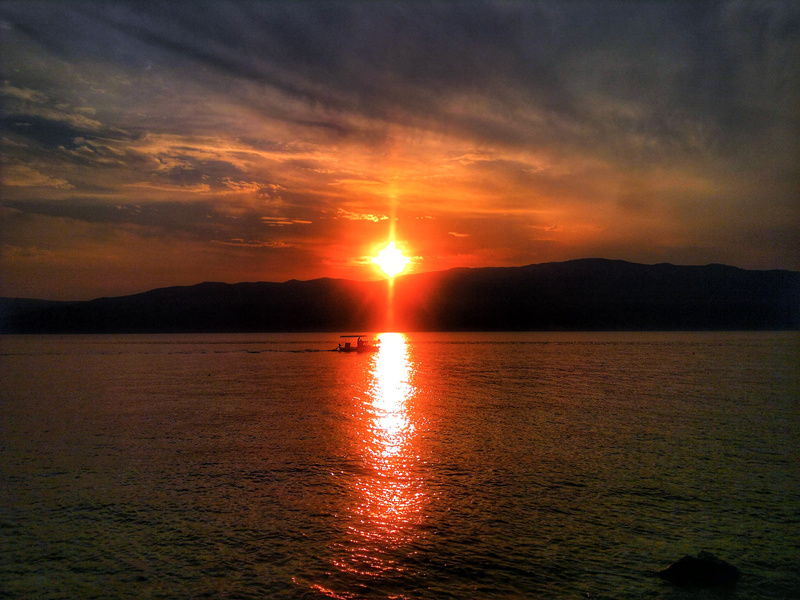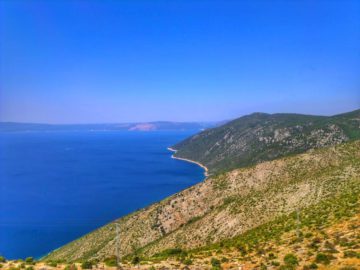 The next day was crazy. First, there is that big and hard uphill. That day I thought I stuck in some Monty Python movie. In an early morning, I jumped on my bike, and after a few kilometers, there was a clearing, so I decided to enjoy the view while riding.
Suddenly I heard someone breathing behind me, and then it happened. Grandpa, older man was running uphill, and he was faster than me on the bike. I tried to speed up a little bit, but it was useless, he just started to run faster on the uphill. I couldn't believe it. And it was just a first part of weird things. I mean when you end up on a Cres, you get to understand that this whole island is weird.
When I got to the top of the uphill I took a small pause because I couldn't cool my body, there was too much moisture in the air, and the temperature was high. While I was resting, I saw someone in the middle of nowhere who is selling some fruits. I went there and bought some. Imagine the desert, and in the middle of it where there is nothing, someone is selling something on the hottest day in a year.
Watch the video: Beli, Cres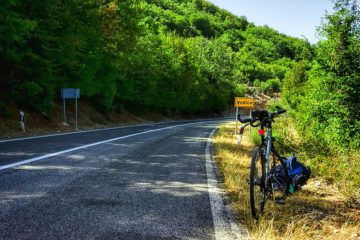 I had one more stop few miles after, and first I ended up in a fight with a crazy goat who went for my backpack (I didn't hit her or anything, I was just arguing with her, because on the hottest day in a year, with so many uphills you become a little bit crazy). Then I got attacked by flies, who just love sweat, and then happened one guy. I was chilling near the road on one of the rocks and saw a guy walking. There was nothing in 25 miles radius. And I was just like… Wtf is this?!
We started to talk, get to know each other, and I asked him:" Why are you walking? Where are you going? What is wrong with you?!" He laughed and said that he is going to the market in the town of Cres. And that he loves to walk, so he is walking for 30 kilometers to the town, or at least until he hitchhike someone. He said that he never rushes things and he doesn't care how much time it will take to get to the town.
Just to mention, he is the guy in the early '30s. You must respect that because I wouldn't walk for so long not even if you pay me. Once I did 60 kilometers of walking, and later 40 kilometers, but those days are over.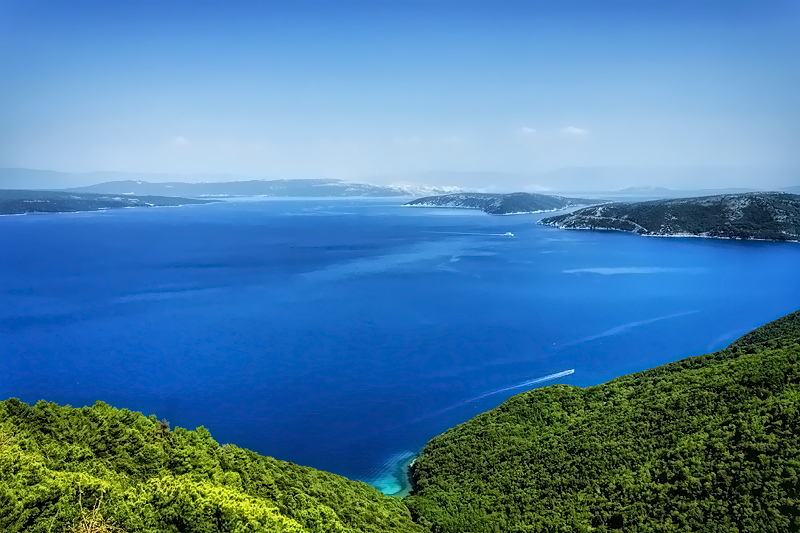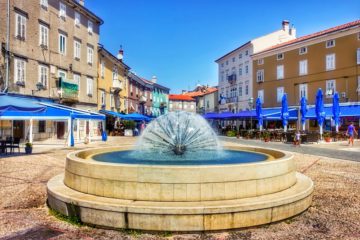 When I finally came to a town Cres, I was just thinking about food. But I wanted to find something special, different. Most restaurants look the same, they have the same interior, exterior, so I wanted something really special for this time. After an hour of walking the streets with my bike, I found that special place for myself. It was a tavern Kopac. Great price, very tasty food, and best of all I got to meet the owner of the tavern and talk with him.
And he has a bad-ass story to tell about his life, his love and what made him open a tavern on island Cres. There is also a wall of an old typewriting machine. Pretty cool. This is probably my favorite tavern on the Adriatic sea. There is one thing I always say, that being a traveler is not the same as being the tourist. From my touring trips, I got to learn the difference. Tourists complain about almost everything, and travelers are seeking to find a love for everything.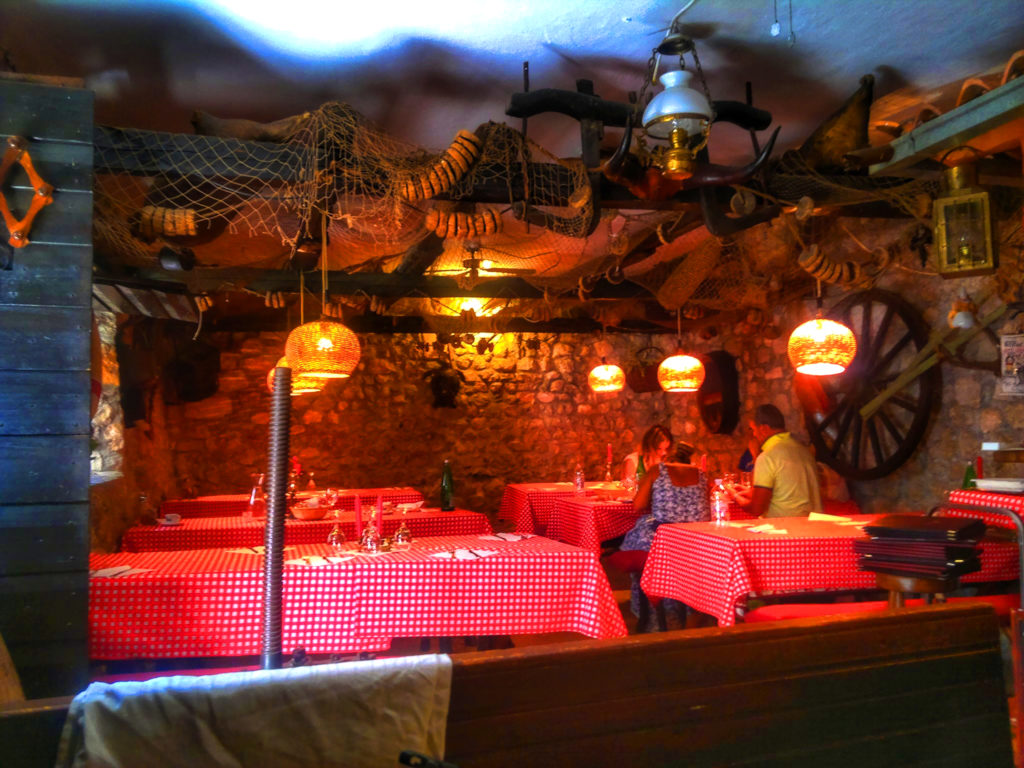 Watch the video: Cres, island Cres
#Island Lošinj – Island of Vitality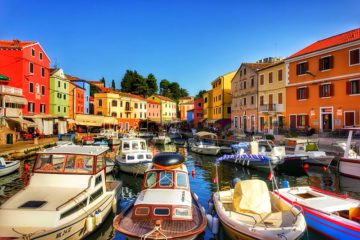 Later that day I went for island Lošinj. I wasn't sure when the yacht Eros (they accept bicycles and have the most professional crew I know) is sailing for island Rab, so I wanted to be sure and check the schedule at the tourist agency in a town Veli Lošinj. They were sailing the next day, so I went into the camp Čikat at a town Mali Lošinj to spend the night there before sailing for island Rab.
The night there was awesome, I mean the whole camp is awesome, best on the whole Adriatic sea. Great beaches, clear sea, dolphins, eagles, and of course squirrels. I ended up raising my tent near the tent of one family that had a bbq that day. During the sleep, there was something constantly running near my head. When you are on the ground, you hear and feel everything. Then after a few minutes when silence fell on a whole camp I heard dishes smashing, falling… the noise was so loud that almost everyone woke up and went out of their tents.
Three squirrels after midnight were trying to steal the dishes with food. We all ended laughing so hard; I believe I hadn't laughed so much for the last few weeks. (Image with boats: Orange building on the right is a cafe bar that on its first and second floor has apartments. Imagine waking up, going downstairs, ordering coffee and chilling there, watching a sunrise over the colorful harbor and planning the day.)
After that night I got onto yacht Eros, and the best part is that they are excursion boats. So we all ended up on a small island jumping off the yacht in the cleanest and clearest sea you ever saw and having fun swimming for at least an hour.
There is so much that happened during my stay on island Cres and Lošinj, and this is just a small part of it.
Watch video: Mali Lošinj, Veli Lošinj, Lošinj – Rab