It was time to plan a vacation, or as the two of us call it, an adventure. Right after New Years' holidays, we started planning our summer adventure.
Since last year was devoted to the Adriatic sea and its islands, this year there was a plan to visit some ware exotic destinations. Bali was number one on our wishlist. The focus was on the natural beauty of some countries.
Long before we started our research on things to do and visit Bali. As our investigation carried on we fell more and more in love with that distant place. After 3 months of browsing the net, googling it, March come and we were supposed to know for sure if our adventure was still on or not. Unfortunately, the year 2017 was not inclined to us and our trip to Bali didn't happen. There were many reasons for it, that I won't write about here. But our plans to visit Bali are not canceled, that's for sure.
When our plans to visit Bali went down the drain, we decided to go to Croatia instead. No matter how many times I hear people saying how Croatia has got nothing to offer, I could never agree with it. The proof of its worth is many awards that Croatian Littoral got from different world tourist agencies. My better half and I started making plans and finally agreed on the date of departure.
It was July, 16th. I know it was at the peak of the season and finding accommodation was almost impossible at that time. Also, the prizes of accommodation went sky high (especially for us Bosnians) because of the foreigners that come from all over Europe.
We can't compete with their standards of living, and when they can indulge themselves with all the pleasures Croatia has to offer, we, on the other hand, have to calculate on every mark (euro) we spend. But money is not an issue here, because we had a plan. I'm saying a plan, but to be honest, we didn't plan anything but to actually visit some distant islands. Explore the natural beauty of Croatia.
Finally, we set off on our journey to Dalmatia. Since we didn't bring our suitcases with us (we got rid of those long time ago), we packed our backpacks and set off. Early in the morning, we checked in to Omiš where we spent a night and tried to figure out where to go next from here.
Omish is especially beautiful for me because of Cetina. But our stay there was a bit different than before because of the fire-fighting airplanes constantly flying over our heads. We found ourselves there at the time when there were fierce fires around Split, Šibenik, and Omiš. We didn't mind the planes but only prayed for fire to stop burning. In the evening we discussed where to go from there and decided to go to Split, Vis and further on.
We agreed to go to Vis because we wanted to sail the open sea. Our goal was to visit two open-sea islands, Brusnik and Svetac.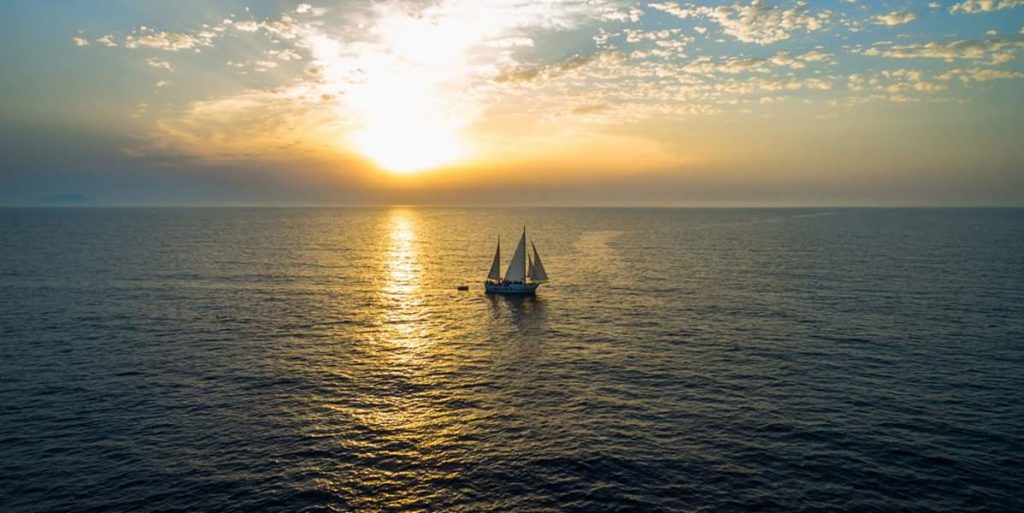 In the morning we set off to Split, where we caught a ferry to Vis. Since we had a car we changed our plans and decided to visit the Kornati first.
As we were driving next to Split the scenes we saw were horrific, there was fire everywhere. As far as arriving somewhere on time is concerned, no matter how early we start our journey, we always arrive late because of the constant stopping and sightseeing, and it wasn't any different this time. We had to stop and find a place to crash for the night.
We arrived at the Biograd na Moru, asked around for free rooms, but everything was full. There were no free rooms anywhere. Two hours later, we arrived at camp MIA. After a short conversation at the reception, we were shown our own place to camp, and we put up our tent. There is really nothing better than bumping into a really nice person willing to help you. We tried to put up a tent, but it was hard because it hadn't rained for so long and the soil was hard. It was dry and rocky.
So instead of a regular 20-minute tent set-up, we ended it two hours later, wet, tired, thirsty, sweaty, smelly, hungry… we put our stuff in the tent and went for a shower and something to eat. Biograd na Moru was crowded with tourists. So at around 11 p.m., we found a place to eat and then we went to sleep. It was all great until we come to our tent. I tried to sleep but I couldn't because somewhere in the distance I could hear our folk singers singing.
Thank God my girlfriend fell asleep, at least one of us could get some rest. We got up at around 6 a.m. so we packed our stuff and went on board a home-trade vessel that was supposed to sail around Kornat and Telaščica. It was just like any other trip of that kind: you get to drink wine, eat fish, all-inclusive but cheap. We Bosnians like to take everything that's offered.
The natural beauty of Telaščica
We were sailing toward the park, seeing beautiful scenery all around us. After some time we arrived at Telaščica and we went off the boat. We had around two hours of free time that we spent sightseeing on the cliffs or Salt Lake. Salt Lake is healthy because of its mud that is used to cure many diseases. It is salty because there are small cracks at the bottom of it where sea water constantly penetrates the lake( so it was said by the local people there). The lake itself wasn't interesting to us, so we decided to climb the cliffs that were a 15-minute walk from the lake.
It was sunny and really hot but we were determined to check out that location. We climbed the cliffs and over thrilled because of the view, altitude and raw power you could feel on the edge. These cliffs reach 160m altitude, Telaščica has actually been declared National park since 1980.
After sightseeing, we got on board our boat and headed towards a private island called Katarina. We were supposed to eat lunch there. When we arrived, they offered fish again but there were some other kinds of meat(finally). Since I was really hungry (as always) I took everything offered while my better half was a bit more polite to only take what could fit the plate.
From Katarina, we headed towards Biograd na Moru. We arrived at 7 p.m. we packed our staff, left the camp and headed towards Split. We had arranged earlier to spend a night at our friend's house in Split. She greeted us really politely, it felt like home. But we had to go to sleep early because we had to catch an early ferry to Vis. Early in the morning, our friend drove us to the port where we boarded the ferry called Petar Hektorović. It was a 3-hours sail.
When we got off the ferry we caught the bus to Komiža. An interesting fact is that around 80% of people at Vis are foreigners, and it feels like a totally different continent. It's not because of the climate, but the people who are different and they have different behavior from the people in the continental area.
We arrived in Komiža at around noon, once again we found ourselves searching for a place to stay. Everywhere we had asked, it was all full. We even went to the tourist info center, where a nice girl hooked us up with a woman called Perica. She is a nice, elderly lady that agreed to give us a room. She offered us the cheapest accommodation we could get, but it was clean and nice and all we needed.
We unpacked our stuff, went for a swim, had some rest, and in the evening we went searching for our ride to the island of Svetac. First, we had a cold beer and then we went searching for a sailor and his boat that would take us there. Pretty soon we found what we were looking for. It was NIKA ADVENTURE TOURS, a local sailor, great adventures, seal-over that we could easily find an agreement with. We had a beer to celebrate our luck and then we went to sleep.
The next day was ours to rest
We were lying on the beach, swimming in the clean, beautiful Adriatic sea. We were not like regular tourists who spend a day on the beach, then go for walks in the evenings, eat dinners at fancy restaurants… when night comes we started packing and getting ready for our main adventure, and that was sailing to Svetac and Brusnik.
It was at half-past 7 and we were standing next to the boat. There were 8-10 of us on the boat, including the captain and his pet, a dog, crazy in love with the water and the sea. We soon set off on our journey, we left the port and headed to the open sea.
After an hour of peaceful waters, a south wind started blowing. It was my first experience of the south wind, at the open waters, on a small boat.
It wasn't the best feeling ever, the boat was rocking and I was feeling sick. Since I couldn't get off the boat, I lay down and just stared at the sky. I spent two hours lying. After some time, the wind was calming down and the captain said that Brusnik was ahead of us.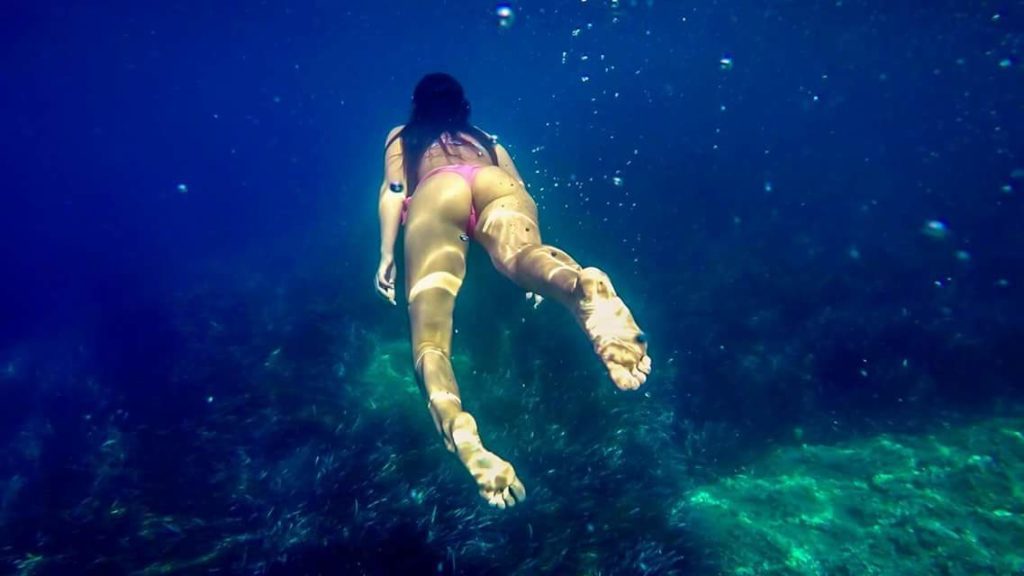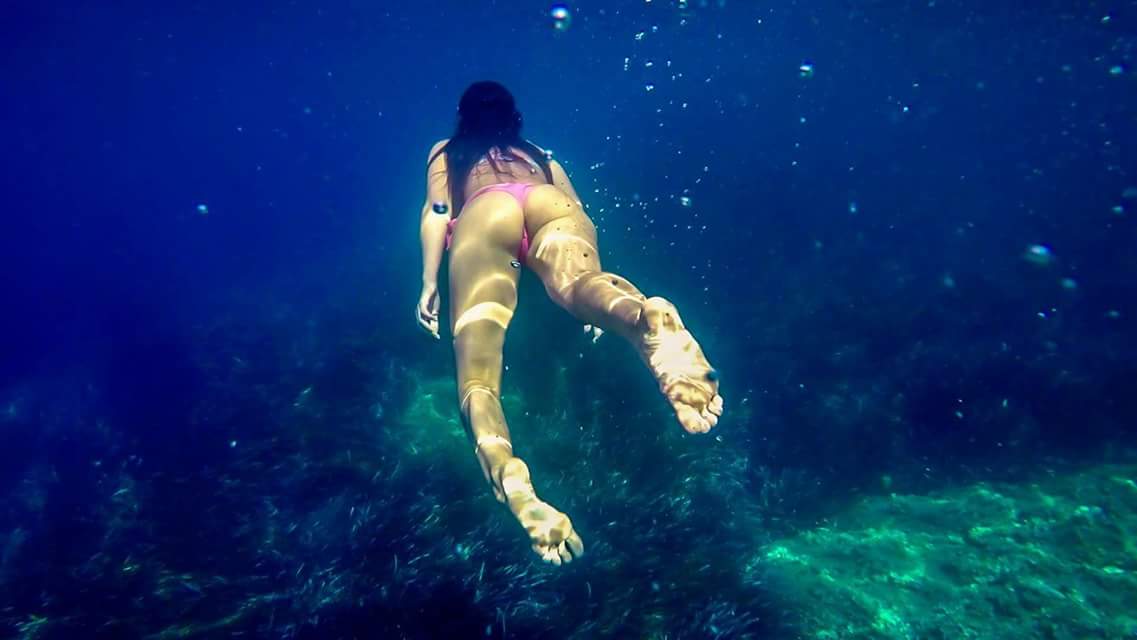 Here are some facts about Brusnik. It is a magical island, and mystical too. It's a volcano as well. There is a single beach, with pebbled and round stones, although now there are bigger ones because the tourist takes pebbles as souvenirs.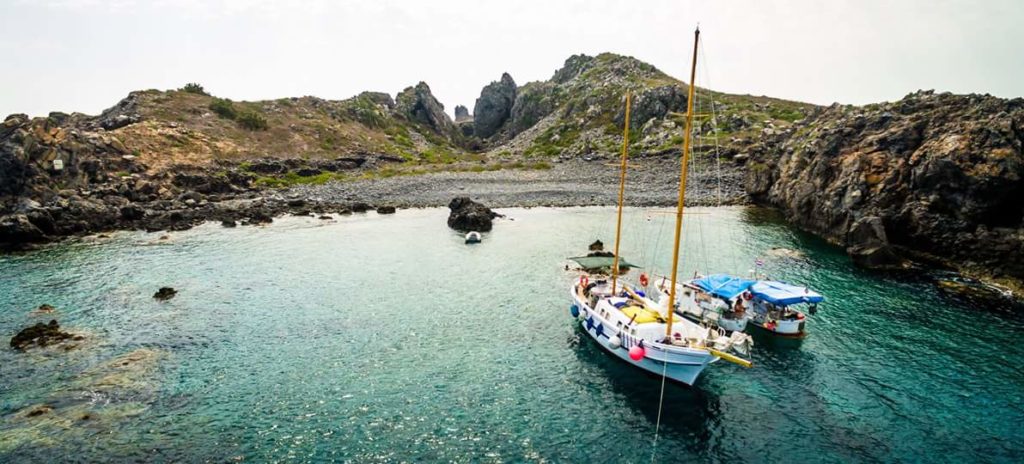 Fishermen used to fish around it and used it for shelter during the winter season. They would dry their nets, which was made of cotton, on the island. In the middle of the island, there are springs that are salty. This also helped fishermen keep everything they would catch fresh.
During winter storms water sometimes cuts the island in half. After we explored the island and learned everything about it from our captain, we boarded our boat and set off towards Svetac. Its a 30-40 minute voyage but since you can see the island it doesn't seem that long.
We sailed the island and we come to a beautiful cove. We spent a couple of hours there, had lunch, swam, dived, and overall enjoyed everything it offered. Our captain made us an excellent meal, which included not only fish but some other seafood that I really licker. After we had some rest there we continued sailing around the island until we reached another cove.
Some facts about Svetac
Svetac is a magnificent island owned by the Zanki family. They've lived on that island for over 250 years. It has been inhabited ever since the Old Greek period, then the Roman times from which there are remains of Teutas tower ( the property of Queen Teuta on the far east and of the islands).
Afterward, the island was inhabited by Benedictine monks that also left remains of a monastery on the south-east end from the 15th century. The Zanki family took it over from the church. In between two WW, the island had a population of around 80 people while today it's uninhabited. It's only visited by the Zanki family during the summer.
After we got to the island, our captain, who is a co-owner of the island btw, took us to his home. It was a 30-minute walk to his home. But considering the heat, hat down for the 5 of us climbing there. We arrived at our destination and we were thrilled. These people have no electricity, running water, no luxury at all but they have everything they need. They get their water from the rain, and they use solar energy to provide themselves with the electricity needed to power certain devices.
The view is indescribable. At the top, we were greeted by a couple of people, and a couple of donkeys that we played with and took some photos of. After that, we headed back to the boat.
Sailing and incredible natural beauty of Croatia
We got on the boat and sailed towards Komiža, the island of Vis. The sea was calm, it wasn't windy at all and then something incredible happened. We were surrounded by dolphins. Where ever we looked we could see dolphins swimming. We were overwhelmed. At around 9:30 p.m. we arrived at a port in Komiža. We didn't hit the sack immediately. We had to discuss everything we had experienced over a beer.
Since my childhood dream of visiting the islands of Svetac come true, I was ready for another adventure. My new dream island is Palagruža; I can't wait to make that dream come true as well.
After we had a beer and some rest we headed to our rooms, and dead on our feet we went to sleep. But it was impossible to sleep since all the images were flashing through our heads. Finally, after some turning and tossing, we fell asleep.
The next day we packed our stuff and we were ready for another ferry ride. We sailed towards Split. After a 3-hour voyage, we arrived to Split where we were greeted by our friend who had made us a real Turkish coffee; Ohh did it taste good!! We didn't have coffee for days so this one brought us back to life. Later on, we continued travelling until we reached Omish. We found a room for that night and headed to the beach. It was the last night of our short but sweet adventure.
We spent most of the night on the beach, listening to the music that was coming from the restaurants nearby, watching the sky full of stars, and thinking about everything we had visited, Brusnik and Svetac. In the morning we packed our staff and went even further south where we crossed the border and headed toward our home town, Tuzla.
Dalmatia as always was full of surprises, undiscovered places, natural beauty, historical monuments
Because, after all, Dalmatia is not the only Riviera, a night out, going to the beach and finding a place to sunbathe… It is much more than that; a place to investigate and enjoy everything…every new sunrise brings. For many, it is a hidden limitless beauty. This was a beautiful, overwhelming experience, one you have to live to believe.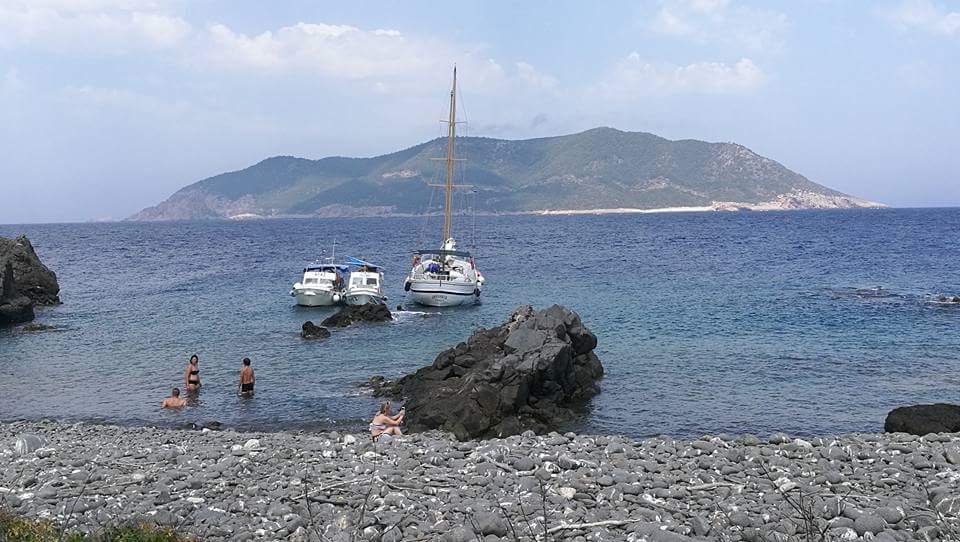 Article & video: Sunčica & Mario