Croatia reports biggest daily jump in coronavirus infections. Today is the second day in a row that Croatia has a record number of coronavirus infections in one day. In the last 24 hours, 208 new cases of coronavirus infection have been confirmed in Croatia. The number of currently active cases in Croatia today is 961. Among them are 106 patients on hospital treatment (10 patients on a respirator). Also, two people died today. The highest number of newly infected is in the Split-Dalmatia County – 77, and in the City of Zagreb – 50.
Young people are increasingly driving COVID-19's spread
Health departments across the country are reporting that younger people are making up larger shares of the total number of those infected with the virus. "The average age of those infected is 31 years as some two-thirds were infected in the nightclubs and bars that remain open beyond midnight," Capak told at a news conference. Young people must be responsible for others. They will have to return to their homes and be with their elderly family members and go to schools, colleges, and workplaces where they are in contact with many people and at-risk groups.
NEW RULES – Croatia will require that bars and nightclubs to close after midnight for a period of 10 day from this weekend!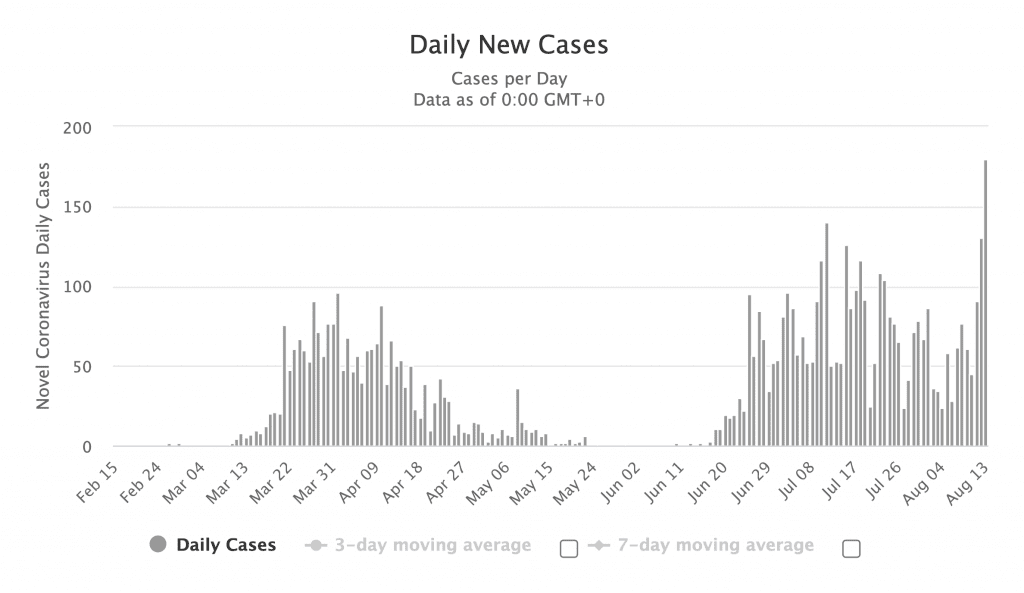 MORE INFO – https://www.worldometers.info/coronavirus/country/croatia/
Situation by counties – 14.08.2020.
Since February 25, 2020, when the first case of infection was recorded in Croatia, a total of 6,258 people have been infected with the new coronavirus (163 people died and 5134 recovered). Currently, 3158 people are in self-isolation. A total of 134,742 people were tested (1,249 people in the last 24 hours).
Požeško-slavonska – 2 new
Virovitičko-podravska – 1 nwe
Istarska – 3 new
Bjelovarsko-bilogorska – 0
Primorsko-goranska – 5 new
Vukovarsko-srijemska – 11 new
Sisačko-moslavačka – 2 new
Ličko-senjska – 0
Zadarska – 8 new
Varaždinska – 1 new
Brodsko-posavska – 5 new
City of Zagreb 50 new
Splitsko-dalmatinska – 79, 1 dead
Osječko-baranjska – 14 new, 1 dead
Zagrebačka – 10 new
Krapinsko-zagorska – 0
Šibensko-kninska – 13 new
Karlovačka – 2 new
Koprivničko-križevačka – 0
Dubrovačko-neretvanska – 5 new
Međimurska – 0

Austria puts Croatia on the list of risk countries for travel
On Friday, the Austrian Ministry of Foreign Affairs warned its citizens to not travel to Croatia due to the possibility of coronavirus infection. The ministry announced on Friday that the warning would be valid from August 17th. Austria fears the return of its citizens from a holiday in Croatia, which on Thursday recorded a record number of newly infected – 282, could intensify the spread of coronavirus on its territory.
Achtung ❗️
Reisewarnung für Kroatien 🇭🇷 ab dem 17. August!

Aufgrund der epidemiologischen Entwicklungen in Kroatien wird die höchste Sicherheitsstufe für das gesamte Land ausgesprochen.⁰⁰Nähere Infos: https://t.co/08t9EVoERn pic.twitter.com/wNoElnwXyr

— MFA Austria (@MFA_Austria) August 14, 2020
Croatia reports biggest daily jump in coronavirus infections – End of tourist season?
Health Minister Vili Beros said: "The tourist season is in full swing, 830 thousand tourists are in our country and an increase in the number was to be expected. It is not possible to predict exactly how much. However, it is important to note that in some counties, such as Split-Dalmatia and the City of Zagreb, the number of new cases is significantly large. But we have four counties with only one new patient, we have 14 counties with less than 10 new patients.
The most important thing is that everything is under control and that we know the source of the infection. It is necessary to constantly emphasize that we ourselves, with our caution and effort, can contribute to reducing the spread of the infection. That is what is important to say at this moment."
Also, he said: "We have enabled life and tourism. Without tourism, which is one of the more important branches of our economy, everything would be far worse. We have purposefully accepted this risk. I spoke this morning with my Slovenian and Austrian colleagues, in a way we are all on the same track. The tourist season is now coming to an end and we need to turn to autumn, turn to the beginning of the school year."
Recommended Experiences
I hope you got enough information by reading the article "Croatia reports biggest daily jump in coronavirus infections″. Discover the most beautiful and interesting sights of Istria. Find, compare, and book sightseeing tours, attractions, excursions, things to do, and fun activities.
Source:
https://www.jutarnji.hr/vijesti/hrvatska/u-hrvatskoj-208-zarazenih-umrle-dvije-osobe-neprestano-smo-u-kontaktu-s-austrijom-i-slovenijom-15013532 (14.08.2020.)
https://www.index.hr/vijesti/clanak/zupanije-prijavile-preko-210-novih-splitskodalmatinska-79-zagreb-50-dvoje-mrtvih/2205021.aspx?index_ref=read_more_d (14.08.2020.)
https://www.jutarnji.hr/vijesti/hrvatska/austrija-upozorava-svoje-drzavljane-zbog-mogucnosti-zaraze-koronom-ne-putujte-u-hrvatsku-15013528 (14.08.2020.)