The German Robert Koch Institute has added two Dalmatian counties on its red list. Due to the increased number of new cases of coronavirus infection, the Šibenik-Knin and Split-Dalmatia counties are on the red list. Islands along the coast such as Brač or Hvar are also influenced by the classification as a risk area, but not the northern coastal areas with Istria and the areas around Zadar and the southern coast with the city of Dubrovnik.
Croatia joins UK quarantine 'red list'
The BBC has just announced that Croatia could be the next country to end up on the British red list. British government ministers are meeting in London this afternoon to discuss changes to Britain's list of safe travel corridors, the BBC reported. Such a decision could follow similar decisions made for travelers returning from Spain, France, and Malta.
Today, during the afternoon, speculations were confirmed. From Saturday, everyone entering Britain from Croatia will have to undergo a 14-day quarantine!
Data shows we need to remove Croatia, Austria and Trinidad & Tobago from our list of #coronavirus Travel Corridors to keep infection rates DOWN. If you arrive in the UK after 0400 Saturday from these destinations, you will need to self-isolate for 14 days.

— Rt Hon Grant Shapps MP (@grantshapps) August 20, 2020
The map – Germany has put two Dalmatian counties on its red list
This warning doesn't mean anything good for Croatian tourism: especially when it comes to the south of the Adriatic and when it comes to the Germans, the season is over. During this year, there were only 50% of guests compared to last year. By mid-June, there was almost no one. But since then the numbers have become much better. During August, there were about 70% of guests compared to 2019.
The director of the Croatian headquarters for tourism in Frankfurt, Romeo Draghicchio, says that Croatian tourism fears a general warning for travel: "It would hit us hard: Germans are our number one guest." There are currently about 180,000 guests from Germany in Croatia, but most of them are in the north, in Istria, Kvarner and the islands there. Draghicchio recalls that there are relatively few active cases of coronavirus.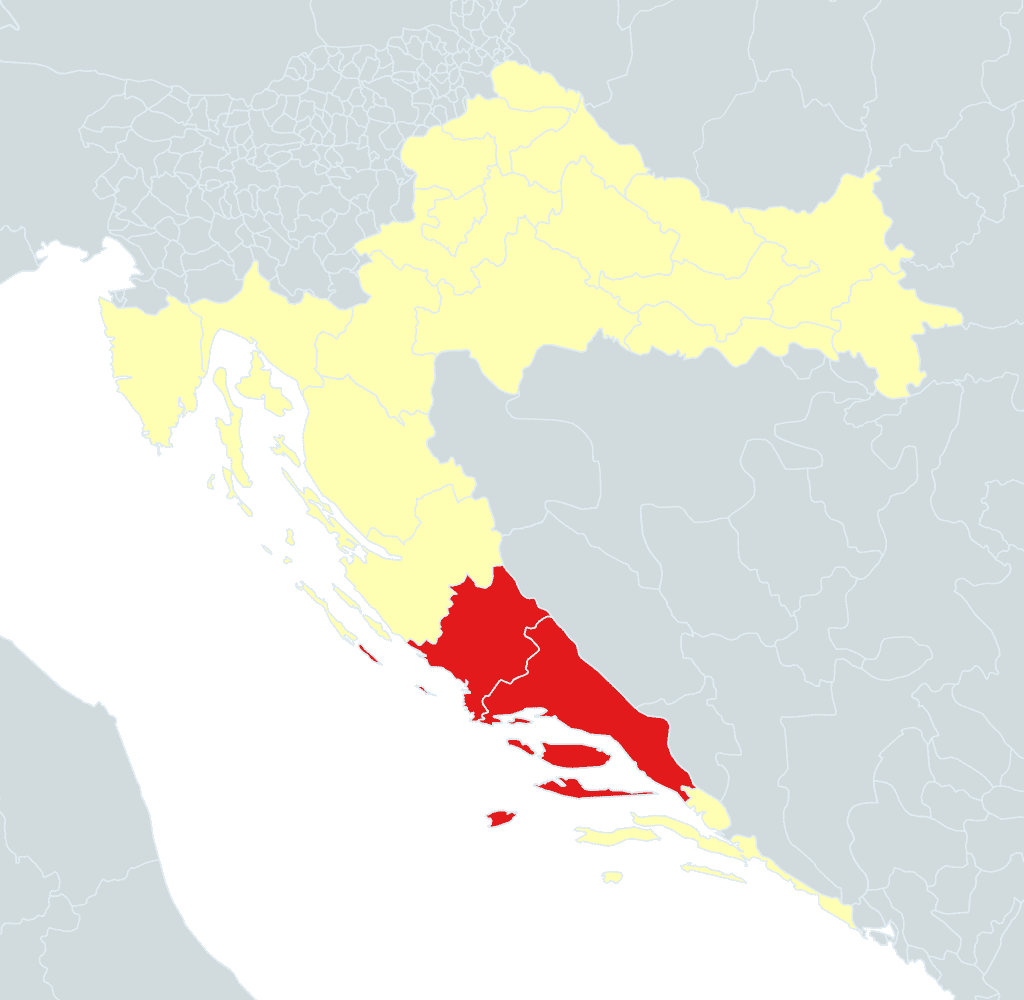 Situation by counties – 20.08.2020.
In the past 24 hours, 255 new cases of SARS-CoV-2 virus infection were recorded, and the number of currently infected (active cases) in Croatia today is a total of 1689. Among them are 127 patients on hospital treatment (13 patients on a respirator). Since February 25, 2020, when the first case of infection was recorded in Croatia, a total of 7,329 people have been infected with the new coronavirus (168 people died and 5472 recovered). A total of 144,521 people were tested (2,397 people in the last 24 hours).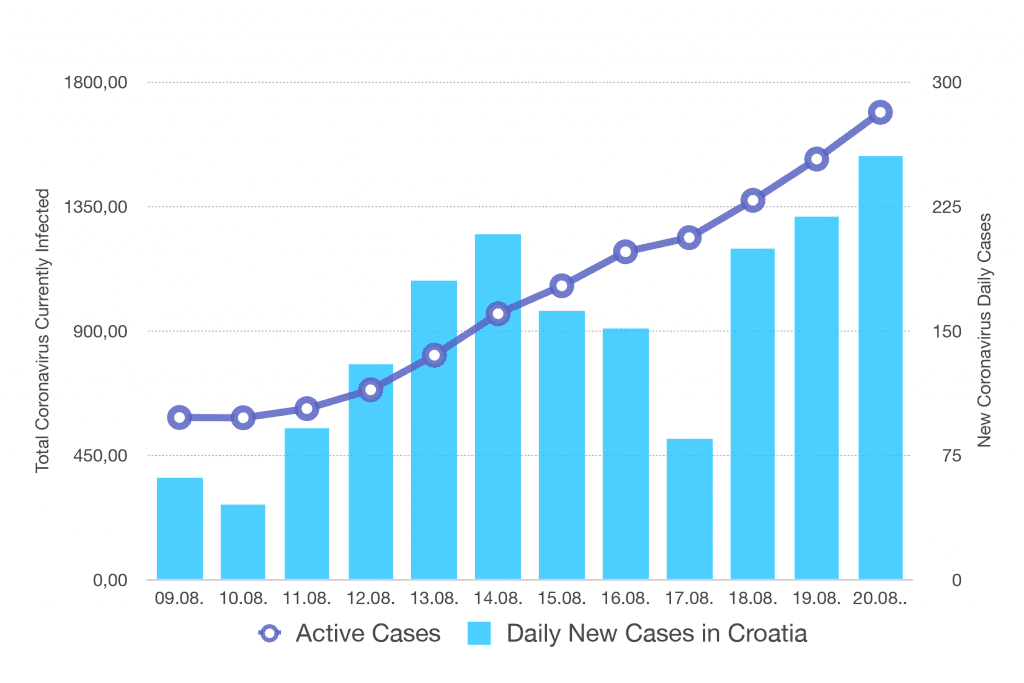 The highest number of newly infected is in the Split-Dalmatia County – 75, and in the City of Zagreb – 44.
Sisak-Moslavina – 1 new
Vukovar-Syrmia – 13 new
Bjelovar-Bilogora – 2 new
Istria – 27 new
Varaždin – 4 new
Primorje-Gorski Kotar – 9 new
Lika-Senj – 2 new
Koprivnica-Križevci – 3 new
City of Zagreb – 44 new
Split-Dalmatia – 75 new
Krapina-Zagorje – 0
Osijek-Baranja – 5 new
Brod-Posavina – 11 new
Zadar – 9 new
Zagreb County – 7 new
Šibenik-Knin – 8 new
Karlovac – 6 new
Međimurje – 1 new
Dubrovnik-Neretva – 8 new
Virovitica-Podravina – 4 new
MORE INFO – https://www.worldometers.info/coronavirus/country/croatia/
Big crowds at the borders
Long wait times are possible at most border crossings due to increased traffic volume and border checks. Overview of the situation when entering and leaving Croatia you can check on the official website of the Croatian Automobile Club HAK.
According to a decision of the Italian and Austrian government, all passengers entering Italy and Austria from Croatia must upon entering provide proof of a negative COVID-19 test result not older than 72 hours or have themselves tested within 48 hours of entering Italy or Austria.
Related articles
Find the latest travel and tourism news from Croatia at the following link.
Recommended Experiences
I hope you got enough information by reading the article "Robert Koch Institute: Germany has put two Dalmatian counties on its red list″. Discover the most beautiful and interesting sights of Croatia. Find, compare, and book sightseeing tours, attractions, excursions, things to do, and fun activities.
Source:
https://www.jutarnji.hr/vijesti/svijet/objavio-institut-robert-koch-nijemci-na-crvenu-listu-stavili-dvije-hrvatske-zupanije-15014502 (20.08.2020.)
https://www.index.hr/vijesti/clanak/bbc-objavio-hrvatska-bi-danas-mogla-na-crvenu-listu-velike-britanije/2206517.aspx (20.08.2020.)
https://www.jutarnji.hr/vijesti/hrvatska/u-hrvatskoj-oboren-novi-neslavni-rekord-u-posljednja-24-sata-cak-255-novih-infekcija-15014514 (20.08.2020.)
https://www.dw.com/hr/i-dijelovi-hrvatske-za-nijemce-sad-rizi%C4%8Dno-podru%C4%8Dje/a-54634519 (20.08.2020.)